September Event and Specials
FREE Ladies Lunch & Learn: Sept. 24
Dysport & Restylane/Perlane for No-Downtime Facial Rejuvenation


Ever wish you could just start over with your skin?
That wrinkles or damage would just disappear?
Join Arizona Eye Institute & Cosmetic Laser Center Nursing Director Roxanne Seale for a FREE Lunch and Learn at noon on Wednesday, Sept. 24, at our Sun City West location, 19052 N. R.H. Johnson Blvd.
Roxanne will demonstrate on real patients, how popular aesthetic products like Dysport and Restylane/Perlane can smooth out lines that begin to form as early as when we are 25.
FREE lunch provided.
RSVP REQUIRED (limited space).
Call (623) 975-2020 by 4 p.m. Monday, Sept. 22 to RSVP

Attendees who purchase 2 syringes of Restylane/Perlane during the event receive 1 area of Dysport FREE*
* FREE Gift Valued at $325.
Free product to be used at a later scheduled appointment. Certain restrictions may apply.
Learn about laser versus traditional cataract surgery in video below: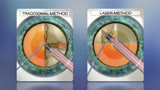 Through the Eyes of a Patient: Vision After Cataracts
Francisco Diaz-Olea looked down at the magazine.
And he could see the words.
He grasped it in his hands. And simply - read.
It would be a normal moment, had the 77-year-old Parker, Arizona, resident not had cataract surgery that very same afternoon at the Arizona Eye Institute & Cosmetic Laser Center.
Eyes that deceived him to the point he unknowingly drove far to the right of his lane - once getting pulled over, another time tapping a mailbox over. Eyes that made him nervous when his equally nervous daughter, Elisa Diaz, would try to help him see - those eyes were suddenly zeroing in, with perfect vision - to the tiny text on those pages.
READ MORE ON OUR CATARACT STORIES PAGE.
FREE EYEGLASS ADJUSTMENT
Come in to Just for Eyes Optical Boutique during working hours for a free frame adjustment of your eyeglasses and sunglasses! Frames last longer, hold their shape and are more comfortable with regular adjustment. Our opticians are here to help.
$100 Gift Certificate for Referrals
When you refer a friend, we will send you $100 gift certificate for your next treatment of Botox/Dysport or any of our Dermal Soft-tissue fillers. Just be sure your friend provides us your name when they sign in. Set up a free consultation today to learn what works best for you.
* Certain restrictions may apply. Limited time offer. Cannot be used on prior purchases. One treatment per session. No refunds.
Related to This