HAPPY NEW YEAR!
Resolutions. It's a phrase that normally sounds like a lot of work. But, truth is, you can make big changes to improve your life with very little work.
Here at the Arizona Eye Institute & Cosmetic Laser Center, we help you do the hard work - whether it's to qualify for insurance for life-altering and vision enhancing upper eyelid surgery, or offer you renewed vision with our state-of-the-art LenSx femtosecond laser for refractive cataract surgery.
Or, it could be our Nursing Director's skill at using Botox, Dysport, dermal tissue fillers, microdermabrasion and Obagi skin products to renew your look without surgery.
It could even be a new pair of eyeglasses, or those
prescription sunglasses you've always wanted to protect your vision and the delicate skin around your eyes.
Resolve to give yourself the gift of good health this year!
---
Heart 'N Soul Valentine's Week Event
A Week of Big Savings Culminating in a Free Lunch and Learn
Pucker Up!
We want to help you get Valentine Ready, with a week of big savings.
Call our Sun City or Sun City West offices to place an order for
FREE AREAS OF DYSPORT
depending upon the number of syringes of RESTYLANE or PERLANE purchased at regular price.
Get one FREE area of Dysport with purchase of one syringe of Restylane or Perlane
Get two FREE areas of Dysport with purchase of two syringes of Restylane or Perlane
Get three FREE areas of Dysport with purchase of three syringes of Restylane or Perlane
Special begins 9 a.m. Friday, Feb. 6 and ends 4 p.m. Friday, Feb. 13th
May purchase by telephone or in-office, or may schedule complimentary consultation with Roxanne Seale, RN, Certified Aesthetic Laser Nurse.
Want to see how they work? Then join us on the last day of the sale:
Friday, Feb. 13th at Noon
Nursing Director Roxanne Seale, R.N., will be hosting a Heart N' Soul Lunch with free food and demos on using Restylane dermal tissue filler for fuller lips, as well as using Restylane/Perlane/Dysport to reduce and eliminate facial lines and wrinkles.
MARK IT ON YOUR CALENDAR: Lunch and Learn 12 p.m. noon, Friday, February 13, at our Sun City West location - 19052 N R H Johnson Blvd.
Space will be limited. Call (623) 975-2020 to RSVP today!
* Certain restrictions may apply. All Injections must be performed in single visit with Roxanne Seale, RN. Purchases must be made between 9 a.m. February 6 and 4 p.m. February 13, 2015 to qualify for special. No other discounts or promotions apply. Discount does not apply to previously purchased products. Sorry, no refunds.
---
This year's Food Drive over the holiday season was a big success thanks to all of your support!
Thank you all so very much for caring for our community and ensuring our neighbors could celebrate the holidays with food on their plates. Happy New Year!
- Emilio M. Justo, M.D., Founder and Medical Director
---
THE GIFT OF BETTER VISION IN 2015

Schedule a consultation to learn if you are a
good candidate for two surgeries performed by
our own Emilio M. Justo, M.D., which will bring
you the gift of improved vision in 2015:

Eyelid surgery will improve your peripheral
vision, and decrease tired appearance and lid
heaviness that impacts our lifestyles. Insurance
often covers upper eyelid outpatient surgery!

Laser Cataract Surgery: We are blessed to
have one of the few LenSx lasers, which makes
your cataract surgery safer and easier on you. It
is a no blade, no stitch, no patch surgery!
Learn about laser versus traditional cataract surgery in video below: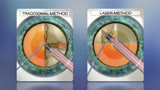 ---
Check out our new frames!
We have new frames in stock for 2015! Come check them out and try them on, just for fun! Ask about them at your next apponitment or stop in to Just for Eyes Optical Boutique.
---
$100 Gift Certificate for Referrals
When you refer a friend, we will send you $100 gift certificate for your next treatment of Botox/Dysport or any of our Dermal Soft-tissue fillers. Just be sure your friend provides us your name when they sign in. Set up a free consultation today to learn what works best for you.
* Certain restrictions may apply. Limited time offer. Cannot be used on prior purchases. One certificate per session. No refunds. Cannot use with other discounts. Injections must be performed by Roxanne Seale, R.N.
Related to This