Arizona Eye Institute Voted As "Best Vision Provider"
The Arizona Eye Institute & Cosmetic Laser Center is proud to have been voted by the community as "Best Vision Provider" in the Stars of Sun City West and Stars of Sun City contests held by the Independent News Media Inc.
The 32-year practice won with a significant lead, thanks to readers and community members who voted online for their favorite vision practice. Only nominated businesses were included in the competition, in which the publisher sought to tally the community's favorite places in a variety of categories. Independent News Media is a large media company covering local communities throughout the Phoenix Valley.
"We are humbled and honored by the privilege of being voted by the communities of Sun City and Sun City West as the best vision provider, a role we have as a team been committed to for more than 32 years," said Founder & Medical Director Emilio M. Justo, M.D. "While we are pleased that we came to mind for this achievement, our goal as a team is to provide every patient the service they deserve, whether it be an eye exam, urgent vision care, cataract surgery, eyelid surgery or even our cosmetic services."
The Arizona Eye Institute offers a wide variety of vision, health and beauty services, from same-day urgent vision care to routine or comprehensive medical eye exams. Dr. Justo specializes in laser eyelid surgery (blepharoplasty) and laser customized cataract surgery in his fully Medicare accredited Sun City West surgery center. In addition, the practice offers permanent cosmetics and skin care lines, as well as injectables and fillers to help patients maintain a more youthful appearance and quality of life. Just for Eyes Optical Boutique also provides a wide variety of eyewear and contact lens options for best vision results.
"Thank you from the bottom of our hearts for this honor," said Dr. Justo. "We promise to continue to provide you the service above and beyond what you deserve and to continue to live up your expectations - hopefully exceeding them!"
Learn more about the Arizona Eye Institute & Cosmetic Laser Center at www.AZEyeInstitute.com, or call (623) 975-2020.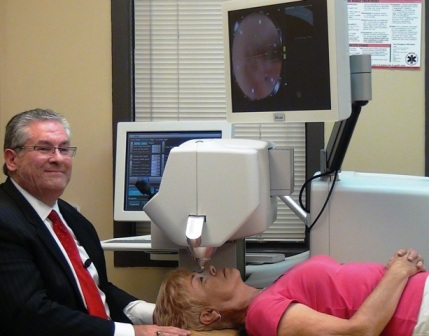 Related to This