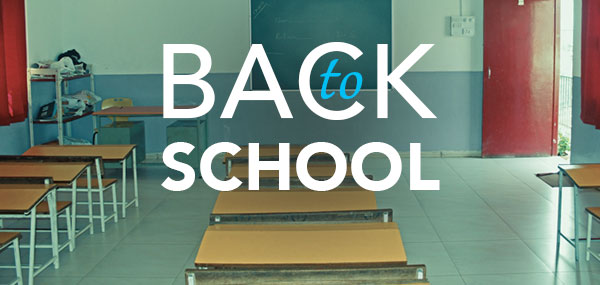 School Supply Drive
We are all eager to get back into the normal swing of things in the upcoming school year. This summer we can help many local children in a big way to catch up after what has been a couple of challenging school years.
We invite you to take part in the Arizona Eye Institute & Cosmetic Laser Center's annual Back to School Supply Drive, to collect those important tools many children often go without, but truly need to thrive and focus on their education.
Every year, you join our extended Arizona Eye family to collect back packs, paper, notebooks, pencils, crayons, and a variety of supplies that help our community's youth focus on learning.
Many of you have even held your own mini drives among your neighborhood, friends, family and workplaces, in order to donate a bulk of generous supplies to any of our practice locations during office hours. We encourage you to make it fun!
All donated supplies will go to Salvation Army Sun Cities West Valley Corps, an organization that works directly with the schools and local agencies to ensure the families with most need receive your generous donations.
Thank you for helping the Arizona Eye Institute & Cosmetic Laser Center once again to make this coming school year a sunny one for our kids!
MOST NEEDED DONATIONS:
3 Ring Binders Back Packs Calculators
Pens Erasers Colored Pencils
Composition Books Loose Leaf Paper
Markers Sharpies
Rulers Highlighters Paper Folders
Pencils Notebooks Crayons
Pencil Box Reusable Water Bottle
Headphones Mouse for Computer
Hand Sanitizer Pencil Sharpener
Note Cards Washable Markers
Locations
Monday - Friday 9 a.m. - 4 p.m. Drop Offs:
19052 N. RH Johnson Blvd., Sun City West AZ 85375
10701 West Bell Road, Sun City AZ 85351
Call in Advance:
500 West Savage Street, Wickenburg AZ 8530
Thank you for your support!

Mom Said to Always Share
Telling your friends and family about us is a wonderful compliment.
We appreciate your trust in us.

Be a Pal and Share
Arizona Eye Institute & Cosmetic Laser Center
(623) 975-2020
19052 N. RH Johnson Blvd., Sun City West AZ 85375
10701 West Bell Road, Sun City AZ 85351
500 West Savage Street, Wickenburg AZ 85390
Related to This